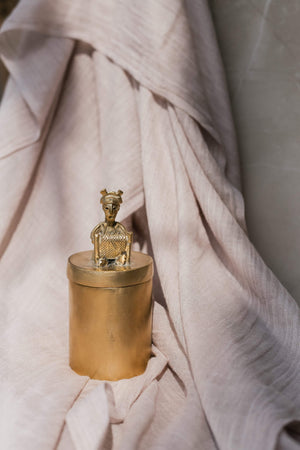 Sesotunawa x Saan Saan Brass Candle Jar - Weaver
Sale price Price ₱3,999.00 Regular price ₱3,999.00
Lake Sebu is affectionately called "The bowl of forest and mountains" and it here that we find communities that continue the traditional arts of weaving, beading and brass casting. We create pieces that express the mystique of the lush forest, pristine lake, and the mountains that enclose the area. The smells, sights, and sounds of this beautiful place are represented in their work. These jars (blogo) were traditionally used to store beetle nuts (for chewing) and other materials used for rituals (demsu). 
This brass jar contains a scented, hand-poured soy and beeswax blend candle.

----

Product Name: Libun Mewe (Female Weaver)


 Lake Sebu, South Cotabato

 Brass; Width: 7 cm, Height: 13 cm
Shipping

All items purchased online will be shipped by our retail partner based in Cebu City. Please read our FAQ for more information about ordering and shipping.